Here is a link to my "June Real Estate Update":

http://www3.realtytimes.com/223/DianeBeck

This Newsletter is full of interesting and useful information that I think you will enjoy whether you are a buyer, seller, or homeowner.

This month's issue includes topics such as:

"How To Buy A House Without Going House Poor";
"Hey Millennial, Go Buy a House! 9 Reasons to Stop Paying Rent Today";
"Three Things Home Buyers Should Never Do";
"The Importance of Seller Disclosures";
"Three Important Responsibilities Home Buyers Have";

Plus a roundup of May real estate activity as well as much more advice and information.

I hope you enjoy this monthly newsletter. If you have any comments, please e-mail them to me. Or, if you would like to see a certain topic covered in future months, let me know that too!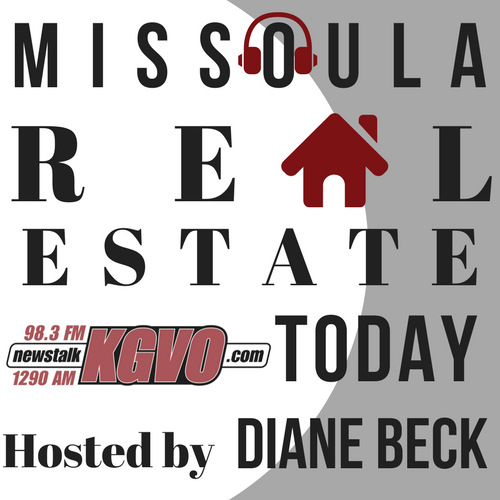 We have all of May's Missoula Real Estate Today Radio Show recordings on our website and also on our podcast! Below is a list of our guests that have been on as well as what to look forward to in June!
May Guests
May 4th: Katie Deuel (Home ReSource)
May 11th: Becky Weidow
May 18th: Ed Anderson (Craigs-Mart)
May 25th: Patrick DeBuff (Closet Guy/Blindside Coverings)
June Guests To Come (You won't want to miss these!)
June 1st: Lee Rufus (Mountain Tops of Missoula)
June 8th: Diane Beck
June 15th: Rob Fleming (Mann Mortgage)
June 22nd: To Be Announced!
June 29th: To Be Announced!
Visit us at our MRET website: https://missoularealestatetoday.com
Also visit us at our MRET Podcast: https://missoularealestatetoday.podbean.com/