The Code of Ethics: 100 Years of Professionalism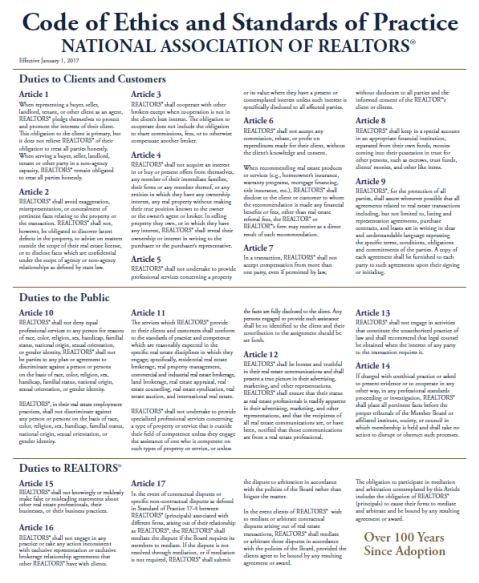 As the leading advocate for homeowners and real estate investors, Realtors® have been subscribing to NAR's strict Code of Ethics as a condition of membership for more than 100 years; the Code separates them from other real estate licensees. Protecting the interests of consumers demands high standards of professional conduct and training, and the Code of Ethics is the golden thread that binds the Realtor® community together.
In 1908, the National Association of Real Estate Exchanges was founded in an effort to standardize real estate practices; the entity later became the National Association of Realtors®. The organization's original goals were to establish ethical standards, allow for the exchange of real estate information and statistics, and to develop sound public policies on real estate matters. On July 29, 1913, the revolutionary Realtor® Code of Ethics was adopted.
All Realtors® must take comprehensive training on the Code of Ethics, which has been amended 37 times and is considered a living document that protects sellers, buyers, landlords, tenants and others who place their trust in Realtors®.
Not all real estate licensees are Realtors®. There are currently more than 1.84 million active licensed real estate professionals in the U.S.; 1 million are members of NAR and can call themselves Realtors®. NAR membership separates Realtors® from real estate agents who do not subscribe to a code of ethics or have access to the educational, business and market information advantages of their Realtor® counterparts.
Buying a home is one of the largest and most important decisions in a consumer's life, and having a Realtor® on their side can help home buyers and sellers stay focused on the emotional and financial issues that are most important. Through the Code of Ethics, Realtors® are providing consumers with a promise to protect and promote their best interests throughout the entire home buying, selling or investing process.
Seventeen Articles to Live By, One Goal: Clients for Life